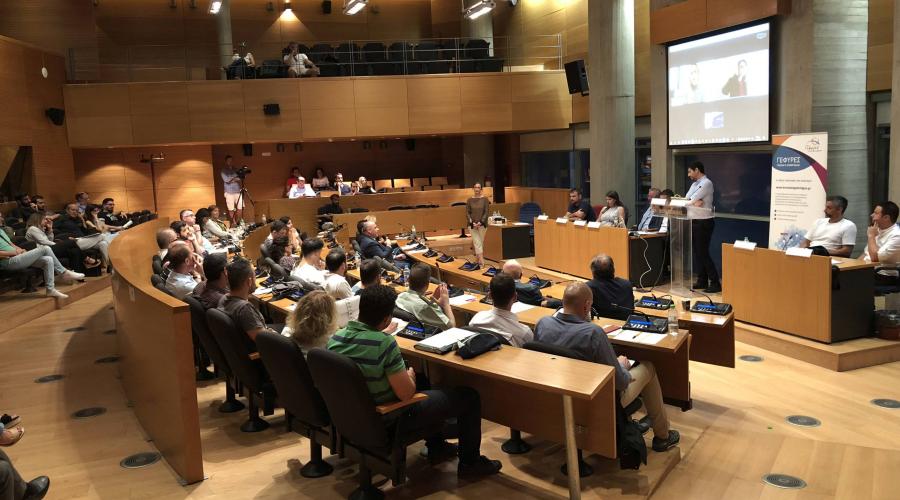 The event held by the national initiative 'Knowledge and Partnership Bridges' on Monday 10th of September in Thessaloniki was very successful. Its main topics were the benefit of networking for Greeks around the world, innovative entrepreneurship and the different dimensions of the brain drain.
The event, which was jointly organised by the National Documentation Centre (EKT), the General Secretariat for Strategic and Private Investment of the Ministry of Economics and Development and the Municipality of Thessaloniki, attracted more than 150 mainly young participants, corporate executives, students and citizens, as well as representatives of chambers and institutions. At the same time, the event was followed by 4,500 Greeks in 20 towns all over Greece and 30 countries from all over the world via live streaming.
The Mayor of Thessaloniki, Yiannis Boutaris, opened the event stating that the mobility of human capital is not a barrier but an asset for the economic growth of Greece. He was followed by Pr. Kostas Douzinas, President of the Parliamentary Standing Committee on National Defence & Foreign Affairs, who also emphasised the importance of mobility and flexibility in education and carreer orientation as well as the modern digital forms of working.
Lois Lambrianidis, General Secretariat for Strategic and Private Investment, emphasised on the diverse aspects of the 'brain drain' in terms of transfer of experience, know-how and the utilization of the skillset acquired by the risk takers, while pointing out that participation in the initiative 'Knowledge and Partnership Bridges' will give 'a sense of belonging' in today's digitally shaped society.
Professor Konstantinos Kozirakis, treasurer of AHEPA (American Hellenic Educational Progressiνe Association), stated that the Association will help in every way the promotion of the initiative, considering it an effort of high importance to connect Greeks around the world.
READ http://www.ekt.gr/en/news/22255
www.ekt.gr, with information from ΕΚΤ