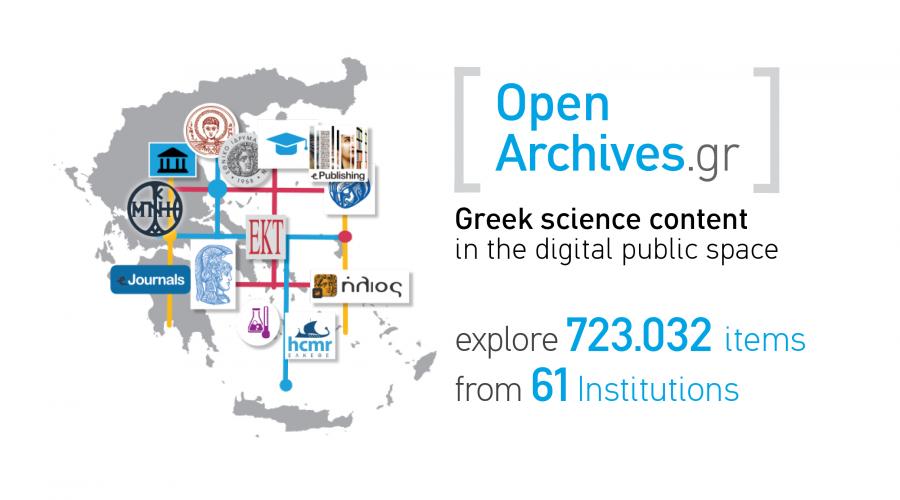 OpenArchives.gr, the largest Greek portal giving access to reliable scientific content, is developed by the National Documentation Centre (EKT) and has already aggregated 723,000 digital documents from 73 collections of 61 organisation. It has recently been upgraded, semantically enriched and has a new layout to better serve the research, educational and scientific communities. EKT used advanced semantic tools and vocabularies to improve the dynamic and friendly environment, navigation and advanced search based on dates and types of material.
At the same time, collections already on the platform were updated. OpenArchives.gr has become a purely scientific platform as cultural content is now hosted on SearchCulture.gr, the Greek aggregator for cultural heritage content.
Visitors to the upgraded OpenArchives.gr can now browse 723.000 digital documents from a single access point and search collections of grey literature from academic institutions and scientific content produced by research, scientific and educational institutions. Doctoral theses, master's theses, books, articles published in scientific journals, conference proceedings, book reviews, interviews and audio-recordings are only some of the content types to be found on the upgraded Open Archives.gr. Among the collections are rare documents published in 1718 such as Istoria delle moderne Rivoluzioni della Valachia!
The scientific content which is indexed in the 73 digital collections of Open Archives.gr has been collected from individual libraries, archives and institutional repositories online which were difficult for ordinary search engines to locate. Now this content is available through OpenArchives.gr, it is easily searchable and dynamic, and is regularly added to with new collections.
READ http://www.ekt.gr/en/news/22796
www.ekt.gr, with information from Nation Documentation Centre