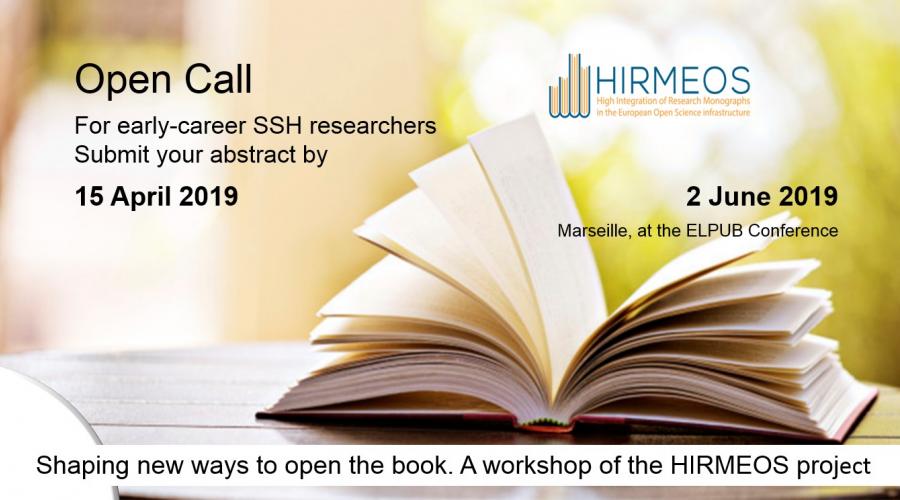 The OPERAS network and the European project HIRMEOS, in which the National Documentation Centre (EKT) participates as a partner, are organising a workshop to be held on 2 June 2019 in Marseilles with the theme "Shaping new ways to open the book" as part of the 23rd Electronic Publishing (ElPub) 2019. EKT is issuing an open call to young researchers to participate in an exchange of views on Open Access publishing practices and monographs as a means of scholarly communication.
Interested researchers are invited to submit their proposals in the form of a 500-word abstract before 15 April, together with a short biographical statement (100 words), to bertino@sub.uni-goettingen.de.
Topics for the workshop are as follows:
Development of new services and tools to strengthen open access monographs.
Examples and experiences of funding open access publishing.
Aspects relating to choosing a publisher for the publication of monographs.
Impact and certification of scientific quality.
Role of Open Access metrics in particular altmetrics in the academic careers of young researchers.
Strategies to increase the impact of a monograph, expand audiences, create networks and communicate with other researchers.
READ MORE http://www.ekt.gr/en/news/23063
www.ekt.gr, with information from HIRMEOS Project