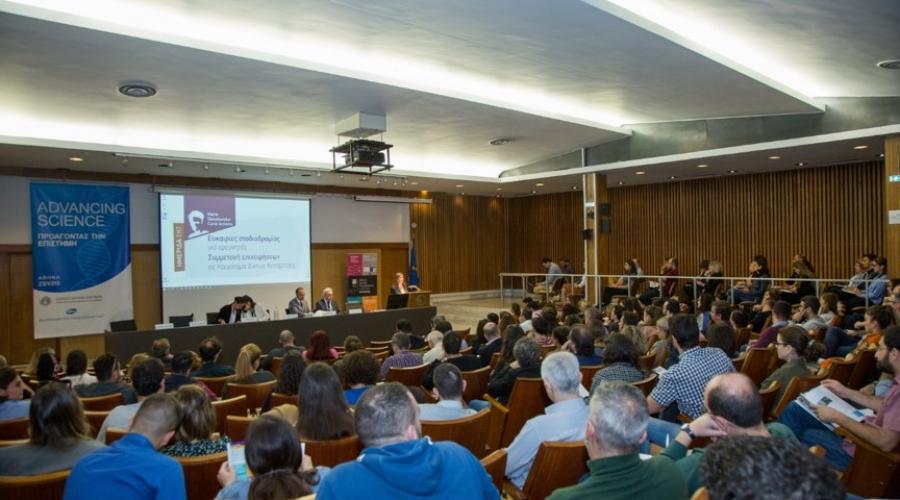 Networking and funding opportunities along with prospects for co-operation were presented in detail at the 'Career Opportunities for Researchers- Business Participation in Innovative Training Networks' workshop held on November 7 2019 by the National Documentation Centre (EKT) in co-operation with the General Secretariat for Research and Technology and the European Commission at the National Hellenic Research Foundation.
Dr. Evi Sachini, Director of EKT, welcomed the audience and the speakers and gave details about EKT's contribution to the good results of the research community of the country, which, according to the most recent data are continuously improving. She also pointed out EKT's role in advising young scientists. 'Being a researcher is complex so we help you to increase your skills, to find a place in the labour market and to be in a position to offer everything that you have gained. We support every step, whether that's information, encouragement or your effectiveness, and enhance your ability to showcase the results of your work.'
Then Dr. Athanasios Kyriazis, General Secretariat for Research and Technology, stressed that European programmes such as the Marie Skłodowska-Curie Actions (MSCA) greatly transformed the European and national research and innovation ecosystem, enhancing extroversion and co-operation while creating added value through brain circulation and ideas across Europe. He added, 'regarding the prospects and challenges facing us ahead of Horizon Europe, I want to mention the very important change in Horizon Europe, as Greece is now among the 15 countries eligible for' widening' support, which will target actions to support countries with low research and innovation performance and leverage increased funds.'
Dr. Vassilis Grigoriou, Director and Chairman National Hellenic Research Foundation, National Representative for the MSCA programme, referred to the MSCA grants received for patents, and the large number of women participants, about 40%. He also advised young researchers not to be deterred by the low acceptance rates of such programmes, because if someone is capable, they stand a good chance of success. He stressed that,'the exchange of researchers between countries as well as the exchange of students through Erasmus has done much more for Europe than 100 Eurogroups'.
READ MORE http://www.ekt.gr/en/news/23542