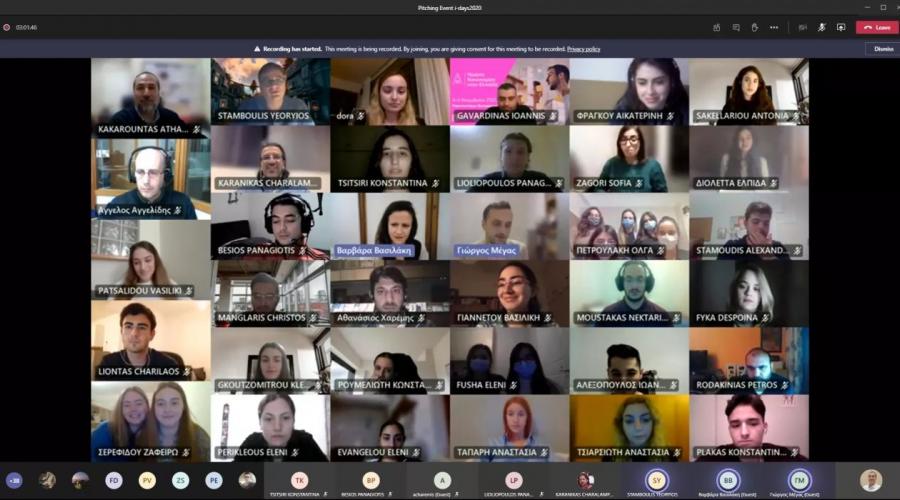 After three days of creative ideas, discussions and fruitful dialogue, the Innovation Days 2020 event was concluded on Friday, November 6th. It was organised for the third consecutive year in Greece by the National Documentation Centre (EKT) with the support of the University of Thessaly under EIT Health's project 'Innovation Days'.
Prior to the event, 70 students from the University of Thessaly formed 19 teams and were asked to address real health challenges, in close co-operation with and under the guidance of university professors and special advisors. On the last day they presented their ideas-solutions to the evaluators and three winning teams emerged
1st place – CryptoCare – Lydia Nega, Giorgos Getsios, Zoe Chitoglou (Bioinformatics students, University of Thessaly). The idea of ​​the three students is to implement a blockchain-based platform intended for use by individuals receiving growth hormone, ensuring that the recommended dosage is administered in full before receiving a new amount of the drug. The regular measurements performed by the subjects in treatment will also be recorded in a safe and private way, in order to evaluate the effectiveness of the hormone administration. This platform is easily scalable so that it can work effectively for any drug / hormone administered with a growth hormone-like protocol.
READ MORE: http://www.ekt.gr/en/news/25075
www.ekt.gr, with information from ΕΚΤ, EIT Health